Prof. Kaushik Ramaiya
| Tanzania
In order for you to test the interest of this training, the first 3 minutes of each course is accessible without password.
To take advantage of free full access to the education program.
Sign-in
/
Fill the registration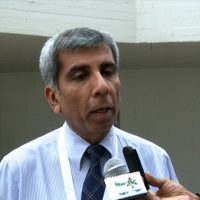 Prof. Kaushik Ramaiya
Prof. Kaushik Ramaiya
Prof. Kaushik Ramaiya, MB,ChB, MMed. is Consultant Physician (Internal Medicine / Endocrinology) and Chief Executive Officer at Shree Hindu Mandal Hospital, Dar es Salaam, Tanzania, Hon. Professor of Medicine & Global Health at Liverpool School of Tropical Medicine, UK., and Hon. Lecturer at the Department of Internal Medicine at Muhimbili University of Health and Allied Sciences (MUHAS), Dar es Salaam.  
Prof. Ramaiya has been actively involved in research on diabetes for many years. He specialised, among other topics, on glucose tolerance and cardiovascular disease risk factors and mainly focused on Indian communities living in Africa.